Oceania DX Contest VK5ARG Field Day station Cancelled
Despite the weather, AREG members still made sure that the club call-sign VK5ARG was heard on the bands for the Oceania DX Contest, albeit from the QTH of one of our members and not from the planned portable operation. The unprecedented weather system that rolled through South Australia in the days before the contest, coupled with the storms that arrived Sunday meant that the field day activation simply wasn't possible this year.
Relocation to the Murray Mallee activated as plan C
In order to get VK5ARG on the air, a hasty retreat was made to the Murray Mallee where Chris VK5CP has his remote station. There we had access to two stations covering 20-10m and 40-10m respectively. On the Friday afternoon we also erected a temporary antenna to give us access to 80m and 160m for the contest!
Most of the crew who planned to activate Para Wirra Park made the journey out to the Mallee and so we were able to man 3 stations when required. Those who participated were: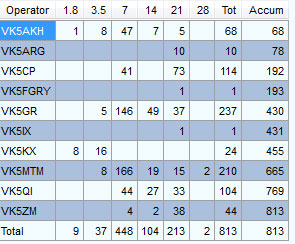 The contest itself was also hard going. The sun and the ionosphere did not cooperate well. This was reflected in the score achieved. At one point during the contest the T-Index map looked like this:
It made for some peculiar propagation. 15m was open for a time when no contacts could be had on 20m during the day on Sunday. At night, we also had some great signals on 80m including contacts to the US West coast and the Mariana Islands. 40m however was our standout band, having extended openings to the USA Saturday evening and to Europe Sunday early morning.
Conclusion
Overall, a great time was had despite the difficult propagation. Everyone enjoyed themselves.
The final score achieved was:
[table "" not found /]
A very special thanks must be expressed to Chris VK5CP who bailed us out when the weather threatened to scuttle our participation completely. Thanks also goes to all of the contest organizing committee, band captains, operators and support crew who did make the trek out to the Murray Mallee to operate and support VK5ARG, including: VK5AKH, VK5ZM, VK5XFG, VK5GR, VK5MTM, VK5KX, VK5QI, VK5IX, VK5FGRY, VK5FSAW and last but not least VK5CP!
Thanks also goes to everyone who worked very hard preparing the station over the preceding 3 months. Don't fear, your efforts have not been in vain as a suitable activation of the park will be planned in the near future (so that all of the work can be put to the test).
Till next year! 73s de VK5ARG!