The 6 metre repeater, VK5RSB 6 (53.750 MHz) at Summertown, has now been serviced, the RF transmit power amplifier has been repaired, the receiver checked for specifications and the repeater has now been re-installed (23/12/2014) at its site with a replacement temporary 5/8w antenna and is now back on air for general use.
The high power PA is back on line with the system now putting 40 watts into the antenna, as a against the previous 15 watts from the PA driver.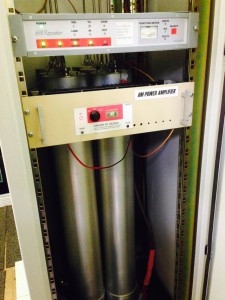 Many thanks must go to Adrian VK5ZBR and Rod VK5UDX for their efforts and work to get the VK5RSB 6 metre repeater back on line.
73, Ben VK5BB