Tracking Systems
Project Horus has a long association with the UK High Altitude Society who provide an excellent platform for tracking on monitoring balloon flights through their habhub.org website. HabHub will again be a major focus for tomorrows flight.
How can you get involved?
The tracking system works most effectively when multiple stations receive the frames and relay them to the Internet. There, they can feed the flight prediction system which can in real time update the predicted landing zone for the balloon! So, to support this project, we are encouraging as many amateurs as possible to make an attempt to listen for and decode the telemetry and upload it to the Internet during the flight.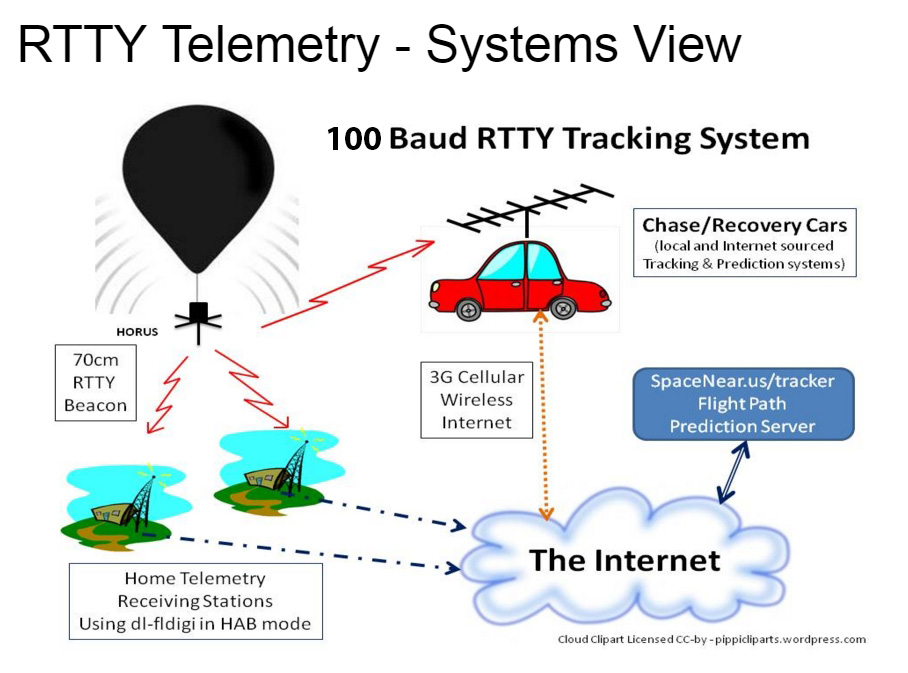 Flight Telemetry Details
The telemetry for the flight will be broadcast on 434.450MHz using 100 bps RTTY (7N2) under the AX5ARG-1 callsign. The callsign itself for the telemetry beacon is significant as the AX prefix being used is something that Australian amateur radio operators can only use on Australia Day. The AREG will be publishing a special QSL card to confirm reception of the balloon telemetry. To qualify, you will need to ensure that you have your decoded telemetry frames uploaded to the habhub.org tracking page.
Information on decoding and uploading balloon telemetry using dl-fldigi can be found on the UKHAS Wiki Pages here or via the AREG Balloon tracking pages here 
The main telemetry payload will also be transmitting an experimental 4-FSK modem signal, developed by David Rowe. These transmissions will occur in between the RTTY packets, and won't be decoded by dl-fldigi. More information on these experiments can be found on David's Blog.
Lift off is planned for ~9:30am on Tuesday 26th January! See you on the air!