Calling all contesters – help the Oceania DX Contest celebrate it's 75th year!
First established in 1934 and earlier known as the VK/ZL contest, the Oceania DX Contest continues to grow. Please join us here in Oceania from all over the world for the 75th running of our international HF radio activity over the first two weekends of October.
PHONE: 06:00 UTC Saturday 3rd Oct to 06:00 UTC Sunday 4th Oct 2020
CW: 06:00 UTC Saturday 10th Oct to 06:00 UTC Sunday 11th Oct 2020
NOTE: New Start times!
See www.oceaniadxcontest.com for the latest version of the rules and list of plaques.
---
AREG Will be there as VK5ARG!
The Amateur Radio Experimenters Group will be running again this year as VK5ARG in a Multi-Multi entry in the PHONE contest this weekend. Our station is a large portable effort, constructed over the past 2 weeks at our remote contesting site (~100km north of Adelaide , the capital city of VK5). We would love to get you in our logs and will be looking for contacts on all bands from 160m to 10m.
Members who have never contested before and those that just like to come for the view and to socialize are asked to let the president know you are coming for catering purposes. We will then let you know the protocols for accessing the site (which is locked away on remote farmland). If you want to operate the station, please make sure you have registered with Matt VK5ZM who is coordinating the roster.
---
More Reasons to Join In!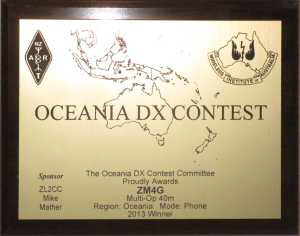 The OCDX Committee have advised that there are a number of new plaques on offer this year thanks to their generous sponsors. Here are the new ones available for 2020:
Ron Wright ZL1AMO Memorial Award:
WORLD (non-Oceania) Phone + CW Single-Op Plaque
OCEANIA Phone MM (Multiple-Operators and Multiple-Transmitters) Plaque
OCEANIA SOUTHEAST ASIA Phone Single-Op Plaque (Philippines, East Malaysia, Brunei Darussalam, and East Timor)
AUSTRALIA Phone Single-Op YL Plaque
AUSTRALIA CW Single-Op All Band QRP Plaque
INDONESIA Phone Single-Op 40M Plaque for Advanced and Extra Class licensees
Everyone is encouraged to have a go and submit a log, even if you only make one or two QSOs, so the contest organisers can verify these QSOs when calculating the final scores for all entrants. Upload your log via http://www.oceaniadxcontest.com/html/enter.html .
Oceania DX Contest Committee (ZL3GA, VK3GK, VK3MI/ZL1AZE, VK3TZ, VK4FH, VK4QS, VK7GN, YB0NDT)