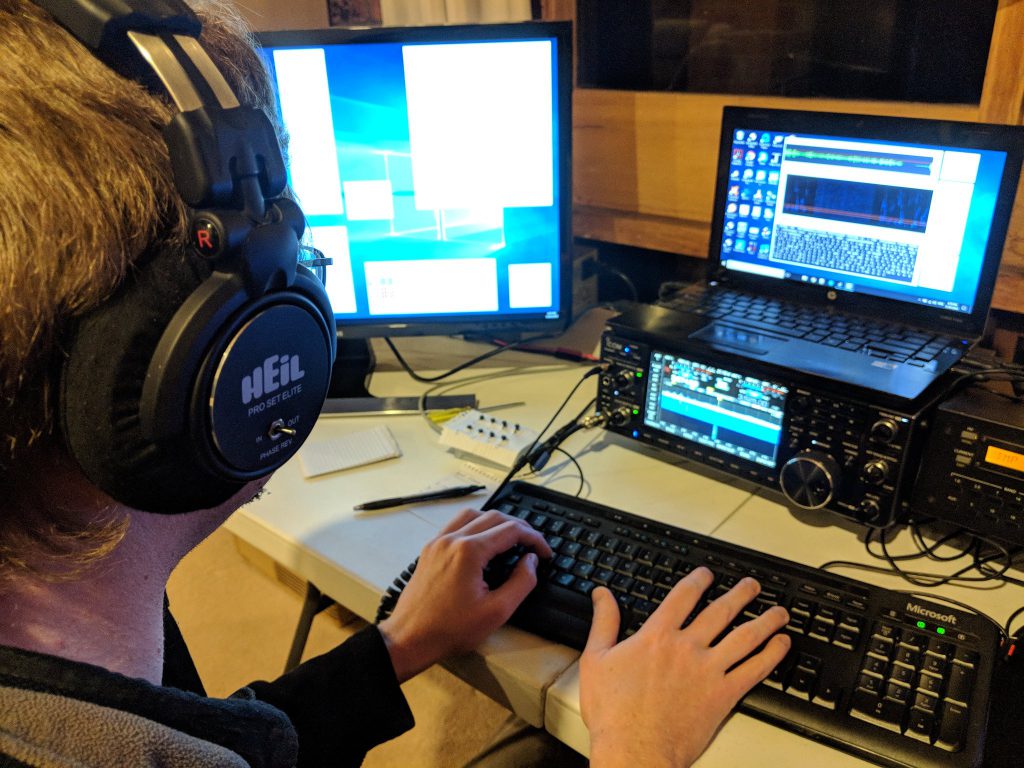 Another TT-Lowband contest has come and gone and this year AREG has set a new personal best score! A huge thanks to everyone who came along and operated, helped set up or sat in the bleechers cheering us on. A huge thanks to Steve VK5SFA who allowed us to setup a 3 seat Multi-Multi station in his home covering all three bands. Steve also fed the team (the BBQ was excellent) and kept us plied with copious quantities of coffee! The unofficial final score was 5360 points for 280 QSOs over the 6 hour event. We now eagerly await the official results.
The Station
The setup consisted of the following:
160m – 2 turn Magnetic Loop Antenna (which is barely 5kHz wide and difficult to tune in hunt and peck mode – much easier when we were running)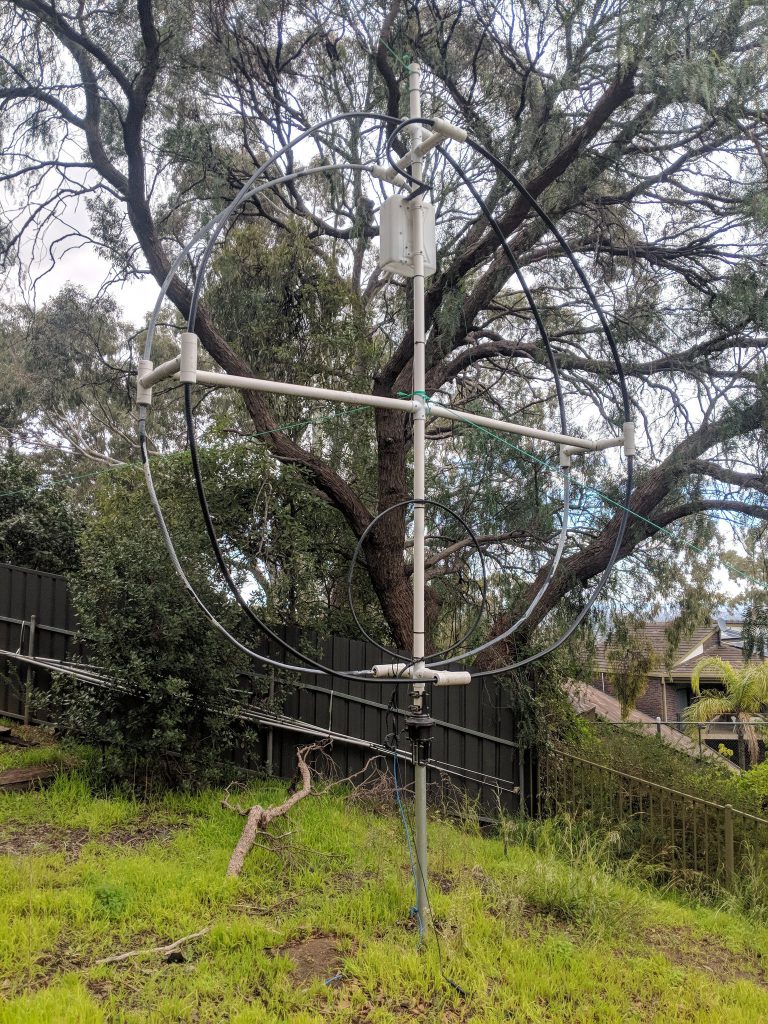 80m – we had a choice of 2 antennas – an Inverted V with it's apex at ~9m above ground as an NVIS antenna and an 80m monopole which worked better for the longer paths such as ZL.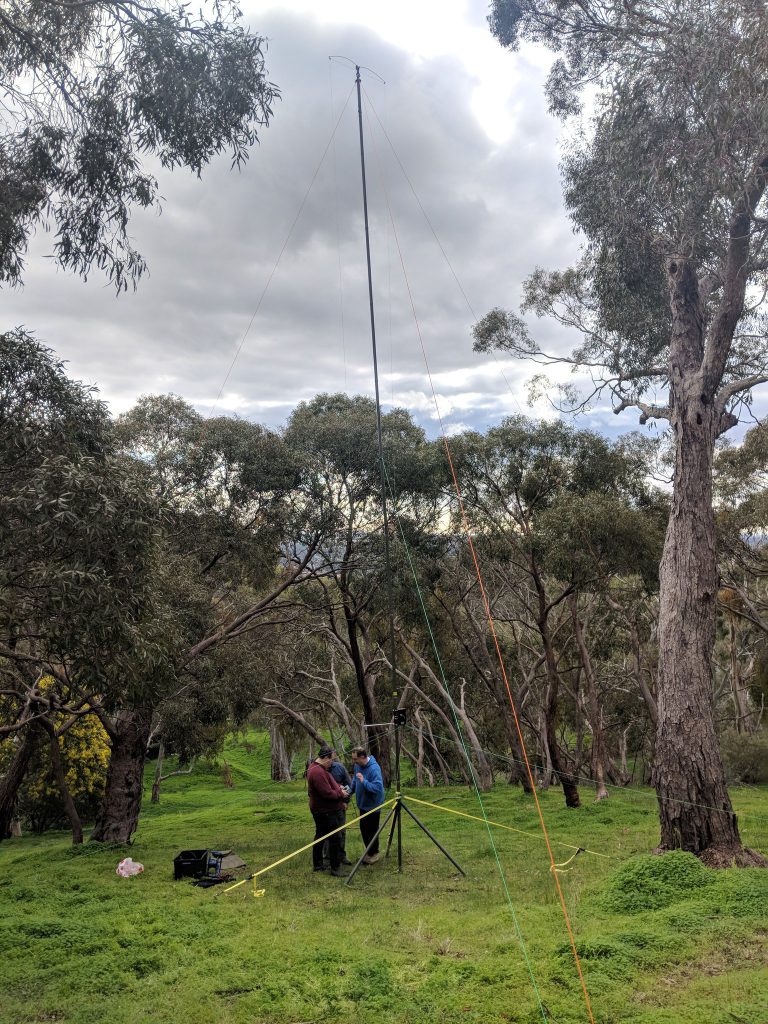 40m – we had a rotatory dipole as part of Steve's SteppIR  Beam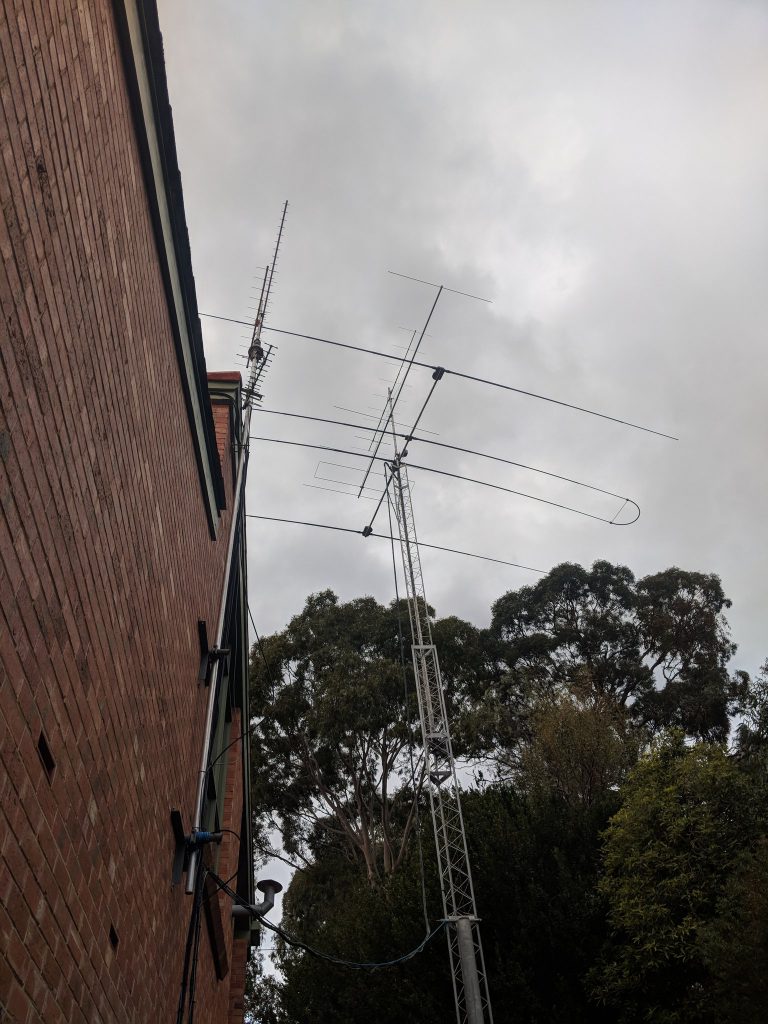 The transceivers this time it was an all ICOM affair with:
An IC7600 and SPE-1.3KFA Amp on 40m,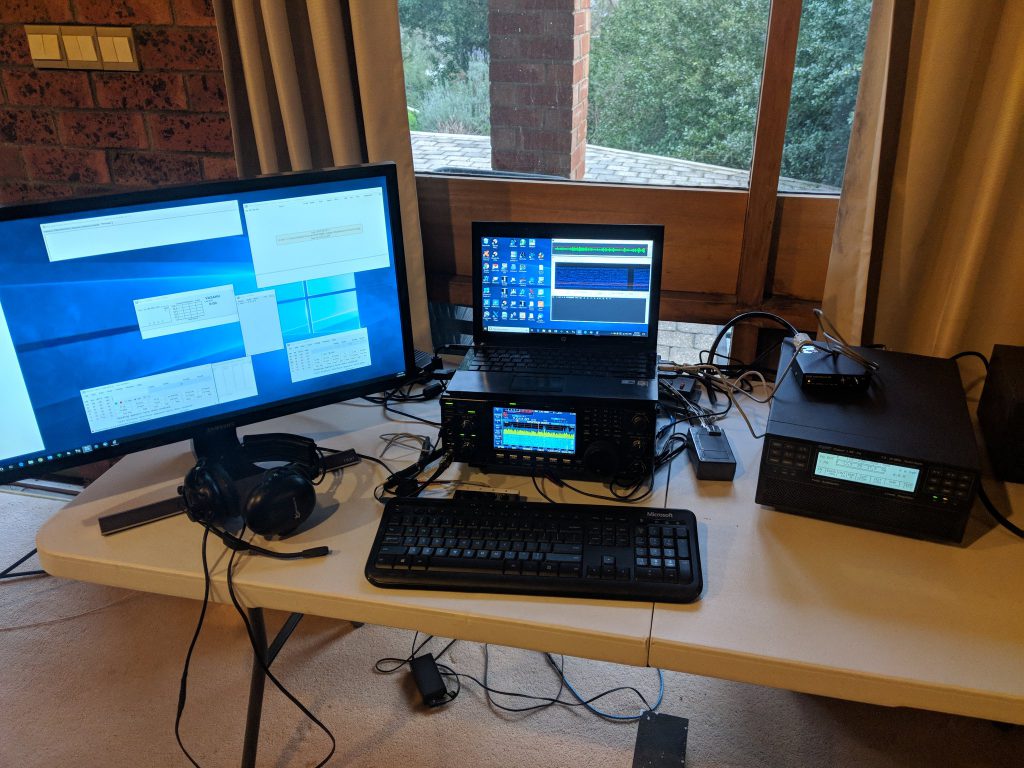 An IC7610 and Elecraft KPA500 on 80m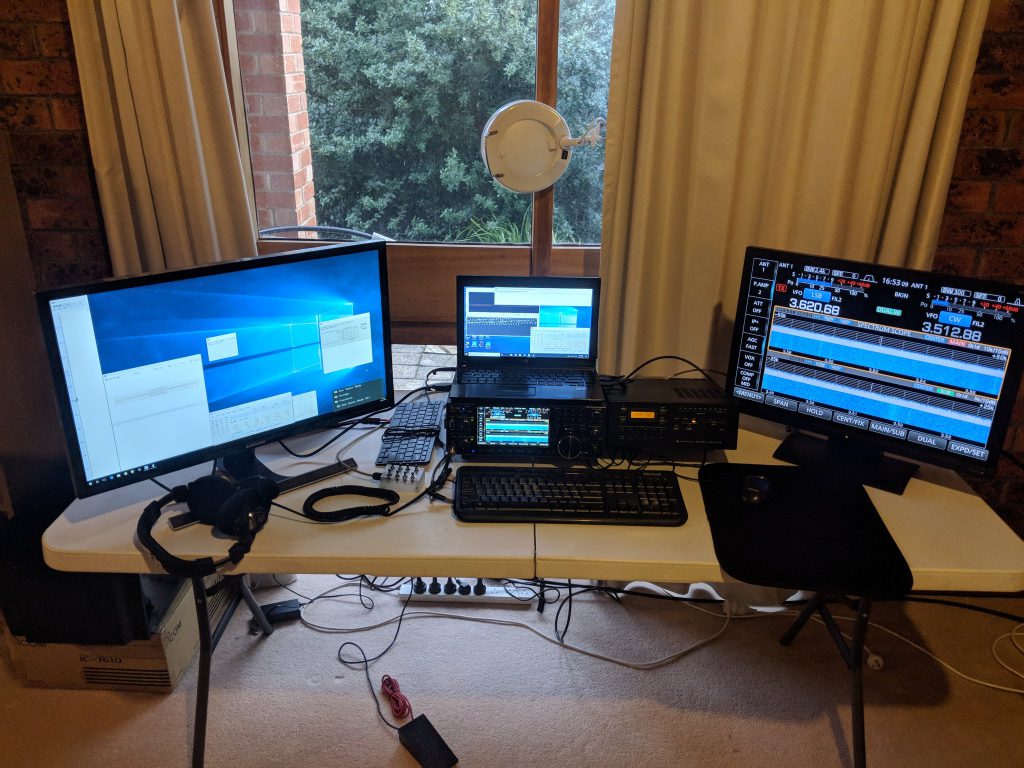 An IC7700 and an AMCOM1000 on 160m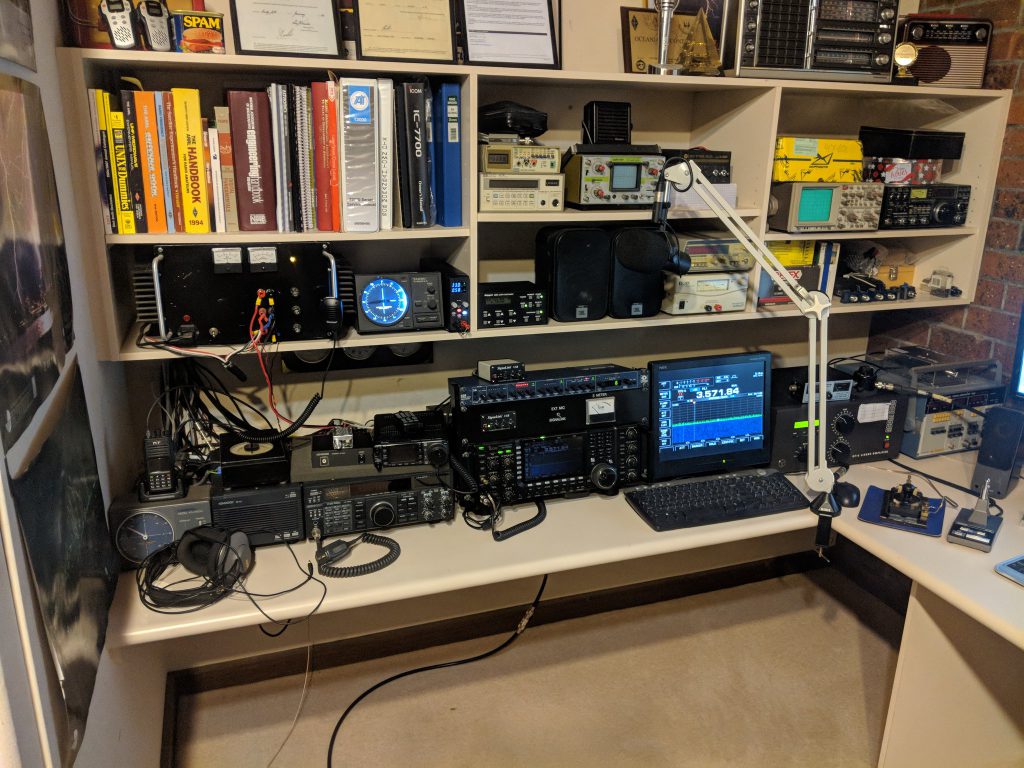 All stations were running 400W PEP simultaneously thanks to a set of 500W rated filters from Low Band Systems loaned to us by Peter VK5KX (thanks Pete!).
The Team
We had a great turnout from the club with lots of people contributing. Thanks must be given to Grant VK5GR, Mark VK5QI and Andrew VK5AKH who together with Steve provided the station equipment. Chris VK5FR also helped with installation on the day. We were also visited by Ben VK5BB and Olga VK5FOLG whom we are trying to recruit as future contest operators – great to see you drop by!
The operating team then consisted of Theo VK5MTM, Darin VK5IX, Steve VK5SFA, Grant VK5GR, Mark VK5QI, Andrew VK5AKH. Between the 6 of us we kept all three stations manned running CW and SSB for the full 6 hours – a fantastic result.
We also had Matthew VK5ZM and his son Daniel along with Darin's son Cameron and Steve's wife Linda as the cheer squad. It was all most pleasant being able to sit in the lounge chairs with the contestors going hard at it all around us. A fantastic atmosphere and a great night.
The Contest
So how did it go? 80m was the stand out band of the evening with it generating the majority of the contacts. 40m was great early on but once the sun set across the contest area the band filled up with stations from across the Pacific with the hum of several other contests running at the same time. Unfortunately the TT Low Band contest doesn't allow you to log calls from other than VK & ZL so 40m became very hard going later in the evening. 160m saw a steady stream of signals throughout the night and was a lot of fun, although challenging to work search and pounce as it would take 2-3 minutes to change even 5kHz in frequency to call someone new on SSB.
All up the following map tells the tale of where we managed to work in the contest
Conclusion
Overall it was a great night and this year has cemented this as a regular fixture in the club's contesting calendar! We now eagerly look forward to the results to see how we did!