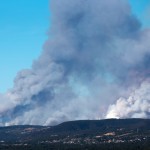 Due to the bush fires in the Adelaide hills mains power to the VK5RWN repeater has been lost.   As of Tuesday the 6th of January the repeater sites 300Ah backup battery system has run out of power.
The bush fire has passed within 2kms to the north of the repeater site, for which we are thankful.  Access to the repeater site is currently restricted due to road closures and the proximity of the fire ground.
Until the damage to the power infrastructure can be restored and road closures removed the VK5RWN D-Star system will be unavailable.
We thank you for your patience as we wait for the VK5RWN service to be restored.  Our thoughts and best wishes go to those people who have lost property and homes in these recent fires.
73, Matthew VK5ZM